WordPress is one of the most used web development platforms worldwide. However, its efficiency and functionality are due in large part to the plugins. That's why I want to show you the best WordPress plugins that cannot be missing in your development.
In this article, you will see what a WordPress plugin is and how it works. In addition, we will take a walk through different types of plugins that are really useful.
Continue with me until the end so you learn to the fullest.
What are WordPress plugins?
WordPress plugins or add-ons are programs that add functionalities to the basic installation of your WordPress website. In most cases, they are designed for a very specific function, although there are multifunction plugins.
Plugins arise from the need to make WordPress blogs more functional. These also greatly facilitate the work of having to develop extra code for the web.
If you don't have so much programming knowledge, nor the budget to hire a developer, it's best to install plugins.
At first, the plugins were scarce and promptly known by web entrepreneurs. However, there is currently a plugin for every functionality you can imagine.
How to get a plugin for your website?
This website stores the library of plugins developed by individuals or development companies. You can see the statistics, ratings, and a small guide to tips.
However, each developer can promote their plugin from their website or their social networks. That is why we continually find descriptions of various types of plugins on the web.
On the internet, you can find an endless list of plugins of all kinds. That is why I wanted to show you a list of essential plugins so that your website is profitable and functional.
Tip: mostly WordPress plugins are completely free but some offer extra features with their premium plans. Usually, free versions of plugins are going to be more than enough.
SEO plugins
One of the aspects that most worries digital entrepreneurs is the SEO of their website. For that, there are specialized plugins to help you improve the visibility of your blog or website in search engines such as Google.
1. Yoast SEO
Yoast SEO is one of the most downloaded plugins for SEO control of WordPress websites. It is updated according to the requirements and requirements of Google in terms of positioning.
These parameters are filtered by the plugin and are displayed in the form of a traffic light according to its optimal operating status.
Green: The parameter has been met excellently.
Orange: The parameter is acceptable but can improve.
Red: The minimum requirements for this parameter have not been met.
Something that generates a lot of tranquility and smiles in digital entrepreneurs is that all functional aspects of SEO are shown in green. This indicates that your page or entry will have many opportunities to position themselves according to the competition for the keyword.
Yoast SEO takes as a reference to the main keyword to determine how well it has been used in a text. In addition, in its paid version, you can add more variants of the keyword for total control.
This great plugin helps you in the process of indexing your website, serving as an intermediary with Google for this process. You can generate and update the sitemaps quickly and easily in a few simple steps.
It also allows you to add the meta descriptions according to your requirements, as well as the SEO title of your entry.
2. All in One SEO Pack
It is time to analyze another of the most used plugins for SEO control of your page. This is All in One SEO Pack.
With quick configurations on your website, you can monitor all aspects that are taken into account to improve positioning.
It also helps you to correctly manage the sitemap of your website and to integrate with Google Analytics. Another amazing feature of this add-on is that it is compatible and integrates with e-commerce plugins. This makes your sales pages also optimal for positioning.
The All in One SEO pack plugin has almost the same functions as the Yoast SEO plugin. Personally, I use either of them for all my online projects. To avoid affecting the speed of your WordPress project, I recommend you only install one of the two.
3. WP Smush
One of the aspects that have the greatest influence on the SEO of a website is the loading speed. And if the loading speed is involved, images may be responsible for a delay in it.
To solve this problem I show you the WP Smush plugin. This addon resizes images and compresses them to a more economical format and style.
In this way, your website will have very useful and functional images without taking up much space. You can choose whether to resize the images individually or in batches.
It is also able to eliminate unnecessary metadata to reduce the weight of your multimedia library. If you use the paid version you will have the possibility to compress all the images in a single action.
Also, the paid version allows you to make a backup of all your images.
4. BJ lazy load

If what you want is a plugin that fully manages the speed of your website, this is the one. The lazy load technique is being widely used by developers to maximize the performance of the websites.
With this technique, what you are looking for is not loading items on the web that really do not have to be used. And if it has to be used, that its load is just at the moment that is required.
In the case of images, only those that are visible on the screen at any given time will be loaded. The BJ lazy load plugin will help you configure this technique throughout your website.
With a few simple adjustments, you will have a more efficient website with great performance.
5. W3 Total Cache

The cache of our website is also one of the metrics that we must improve if we want to improve SEO. A well-managed cache allows the fast loading of each of our pages and entries.
With W3 Total Cache you can configure the way your pages load based on the cache memory. Also, delegate actions to the users' computers so that they have to share the loading process.
You can also minify the source code of your site, which is great for fast loading. You can also configure the cache that directly influences the database.
6. KK Star Ratings

All the visual elements that you can add to your website and to the search results can improve your positioning. This time we find a plugin that places the rating stars in the search results for your content.
This is KK star Ratings, which makes your content very colorful in Google searches. Star rating makes users more confident in what you are trying to show them. This way you get their attention and the CTR increases.
You can filter the ratings so that only the highest scores are displayed. The plugin is not only responsible for displaying the ratings, but you can also manage them completely within the web.
In this way, you will have the possibility to see the statistics of your ratings and filter them according to your preferences.
7. Broken Link Checker
The management of incoming and outgoing links is a fundamental aspect of the SEO of our website. With the Broken Link Checker plugin, you will have total control of the links that are managed on your website, both incoming and outgoing.
This add-on is responsible for detecting broken links and warning you about their presence. Broken links are a factor that generates an imbalance in your website from different points of view.
Many times some images we have used also include links, but these have already expired. This plugin is responsible for debugging all this.
At first, all this seems simple to monitor from a human point of view. But with the passage of time, as your blog becomes full of entries, and incoming or outgoing links, this management will not be easy.
8. SEOPress
It is one of the most complete SEO plugins, with very suitable parameters for positioning. It links you directly with Google Analytics so you can easily check the metrics of your blog.
The SEOPress plugin allows you to adjust variables such as:
Meta title
Meta description
Keywords per publication.
Outbound Links
URL
You can also solve errors that your website may have been presenting before installing the plugin. In addition to all the settings that your website requires on the Google results pages.
9. All in One Schema Rich Snippets
Rich Snippets are very useful tools in terms of how striking our results can be in Google. Search engines are pleased with this type of format since they greatly satisfy the reader.
With the All in One Schema Rich Snippets plugin, you can make the HTML of your entries better organized. This will make it easier to create Rich Snippets from your content.
In the same way, it allows users to see the score of the entries in stars in the Google search results which generate more clicks.
10. 404 to 301
This plugin is basic but essential since it prevents 404 errors and creates a redirect to another page.
404 errors are created when the user wishes to access a page and it no longer exists or the permanent link has changed. Usually, a 404 error is just a white page with no content.
Not only 404 errors are not pleasant in the eyes of readers, but Google takes them as a serious mistake and can penalize your blog or website.
With the 404 plugins, you will choose which other segments of your blog to direct to your readers when a page does not exist without causing a 404 error.
Best Security Plugins
It is useless to have a beautiful and functional website if it is not secure. The integrity of your website is something you should not neglect, so I invite you to see this list of plugins to protect your site :
11. SecuPress
This add-on comprehensively monitors your website by keeping it away from all possible threats. One of the most frequent and complicated problems that webmasters face is brute force attacks.
With this plugin, you will be protected against such threats. It is also responsible for restricting access from IP addresses that seem suspicious.
Along with it, you will have an excellent firewall with security alerts that will make your website shielded. This is how you will avoid bots and other bad taste programs on your site.
12. All In One WP Security & Firewall
All in One WP Security and Firewall is a complete solution to the different security problems you may face in WordPress. You will only have to activate the different configuration and protection options of your site to start monitoring.
The complement will give you a score according to the performance or level of protection of each aspect of your website. You can tell the plugin how demanding to be. This is because it has basic, medium and advanced levels of protection.
It will also indicate a series of recommendations to optimize the complete protection of your website. For example, if any of your users keep the name "admin", the plugin will propose a change.
13. Shield Security
If what you want is only to protect your website from the outside, this plugin will suffice. You can adjust the access restriction parameters from different points or user levels.
In addition, there is a lot of documentation about this plugin, which will allow you to adjust it your way. From the moment of installation, it will be in charge of protecting your website from unwanted access.
14. Wordfence Security

On some occasions, safety accidents generate problems that affect the operation of our site. The ideal is to protect our website so that they do not occur, and this is what Wordfence Security does.
However, if attacks occur that leave sequels on our website, with this plugin they can be resolved. It also shows you information about possible attempts to violate your security by external agents.
15. iThemes Security
Due to its wide range of options, this plugin makes your website a robust and secure site. It has more than 30 defense parameters for the protection of your site.
Due to its powerful threat database, iThemes Security can detect almost any indication of attack actions. It is able to detect any type of vulnerability of your website and strengthen passwords that are very simple or obsolete.
Although its free version meets the expectations of users, the pro version has fabulous features. One of them is two-factor authentication for sensitive access with valuable data.
Blog management plugins
Owning a well-organized news blog, with interesting, and very popular content, is not an easy task. But if you give automation a chance, it will surely be easier for you.
Plugins can be your solution, so I will show you the best accessories for managing a news blog.
16. Related Posts Plugin by Zemanta
One of the elements that can give more popularity and prestige to your website are related content. Visitors to your site will be happy to see other content that follows the thread of those you have already published.
Related Posts Plugin by Zemanta is responsible for getting content related to your news and updates. You can configure the plugin to show related content existing on your website or external sites.
It must be said that the related content that manages this plugin is displayed very naturally. This encourages visitors to continue browsing your website or external links with great enthusiasm.
17. Nelio Featured Posts
Nelio Featured Posts is a fairly functional and fairly simple plugin that fulfills your work without complications. This add-on is used to place featured posts on a sidebar, in an organized and dynamic way.
An interesting fact of this plugin is that it does not generate a delay in the loading of your website. Featured posts are cached so they are preloaded for any similar query.
For these reasons, it has been rated as the best plugin for the selection and publication of featured articles.
18. TinyMCE Advanced
Surely you are used to working with the traditional WordPress text editor. And it is that it is very functional for any type of basic project.
But when it comes to projects with special features, your WordPress text editor needs to be advanced. With TinyMCE Advanced you will achieve a text editor with fabulous features so that your text has a fantastic design.
The number of options that this editor has been impressive. It is almost as complete as any desktop text editor.
You can configure more precisely the margins and indentations. It also has a very diverse range of sources. You will have the opportunity to create tables in a simple way, and add formatting to high-level text.
19. Disqus Comment System
Managing comments on a website can be very complicated if you do it in the traditional way. Even more so if your website already receives many visits.
This may change if you allow Disqus Comment System to help you with this task. This plugin allows you to configure your comment space from a functional and appearance point of view.
You will have full control of your comments, and that way you can automate most of your processes. This way you save time that you can invest in other aspects of your website.
Plugins for social networks
Although search engines are an excellent source of web traffic, social networks are not far behind. Sharing content on social networks is increasingly popular. And if visitors do it for you, and the content goes viral, it's great.
Social media plugins help your content to become more popular. Let's see some.
20. SumoMe
Without a doubt, it is one of the most complete tools for timely interaction in social networks. You can add share buttons so that your visitors can spread your content through their contacts.
On the one hand, you can configure and view all the statistics of the social networks you use. You do not need integration with the social network API, which saves you a lot of time and effort.
This way you can see how many times a content published on your blog has been shared.
Another aspect to highlight within this plugin is the possibility of generating heat maps. You can carry in a graphic and well-analyzed way, the amount and type of movements that users make within your website.
21. Ultimate Social Deux (Payment)
It is one of the most complete and solid plugins in terms of social media buttons. Its flexibility is great, and you can customize the social networks of your blog perfectly.
Your social media buttons can be static or dynamic, and you can add great animations. As they browse your website, they can see your social media icons floatingly through your page.
You can choose whether the social media buttons to share are at the beginning of the posts or at the end. You can also set up an invitation to your visitors to subscribe by email.
You can add counts to your social networks and see how many people have interacted with your post. In its paid version you will have more than 200 styles to design buttons to suit you.
22. AddThis

Simple, light, practical and functional. So I define this plugin, which offers a great solution for visitors to share your content. In addition, it has a support forum for any difficulties that may arise.
With a wide variety of designs, and very easy to configure, in a few minutes, your visitors will have the option to share your content.
For more advanced options, a greater variety of design, and more specialized management of statistics, I recommend buying the pro version.
23. Social Media Share Buttons & Social Sharing Icons

If you are looking for the plugin with greater compatibility for different platforms, this is the one. With possible interaction on more than 200 platforms, it is one of the most complete in this regard.
You can add a button bar to your liking and customize it to the style you prefer. To use it with user support you need to buy the pro version. So you will have the support of full-time developers for any questions or problems with this add-on.
24. Instagram Feed
If you are looking for something more specialized, in this case in an Instagram plugin, I show you the best alternative. It's about Instagram Feed.
With this plugin, you can combine your Instagram account with your blog, and so your followers can see your photos also in your blog. You have the possibility to configure the plugin for more than one Instagram account, which offers fabulous results.
People who discover your blog will also be excited to become a follower on your Instagram. Even more with the option of placing a button to enter and follow your accounts.
Plugins for online stores
In many opportunities, our web project is definitely focused on electronic commerce. At first, it was difficult to link an online store with a simple blog made in WordPress. However, with the development of the plugins, this has changed.
There are many plugins that allow you to create an online store quickly and safely. I will show you which ones I consider most functional, complete, and practical.
25. WooCommerce

In this plugin, you will find a comprehensive solution for everything that is the management of an online store. It is simple to install and includes several pages for different processes in sales management.
You can manage actions such as:
Promotion: Create your products and place their characteristics, line, and price. This way your customers can see everything you have to offer them.
Sale: Through this plugin, you can create your shopping cart and make your users request your product and pay the amount. This is integrated into inventory management, where you can place the availability of each product.
Billing: You will have the possibility to issue invoices with all the legal requirements for different countries. Also, set the amount per tax depending on each region.
Affiliates: If you have affiliation with an online store like Amazon and want to promote their products, with WooCommerce you can do it. This way you will keep the statistics of how much you have sold in affiliate mode.
Registration: In addition to allowing the purchase of products, the plugin can manage the registration of customers. This is very useful to feed the purchase sale database or more loyal customers.
This plugin integrates with other add-ons to achieve a perfect balance in your e-commerce website. This avoids conflicts in the different functions that you have installed on your website.
26. Ecwid Ecommerce Shopping Cart
Ecwid Ecommerce Shopping Cart is ideal for importing catalogs from different online stores similar to yours. You can also customize your online store in a very creative way and adapted to your needs.
It supports integration with a large number of the most popular payment methods in this type of commerce. You can also sell all kinds of products through your store, including digital packages such as courses and books.
27. WP Shopify
If you have an online store with the Shopify platform you must link your website with all the services offered by this type of store. For this, I recommend you install WP Shopify.
The idea of ​​this complement is to provide the user with intuitive buttons everything related to their purchase process. The idea is that you access the shopping cart with your selected products and order what you want to buy safely.
28. Easy Digital Downloads (EDD)
If you dedicate yourself exclusively to selling digital products, this is the best solution for your online store. With Easy Digital Downloads, you can easily configure all the promotion and marketing parameters of your products.
You can sell products like:
Photos.
Software.
Digital books.
Video courses
Guides and tutorials.
Music.
It also allows you to place different payment gateways for the convenience of your customers. Also, with the PRO version, you can design and distribute license agreements and create a panel of user ratings.
Plug-in for forms and records
On every website users of different levels must go through some registration process. Also, for any management or subscription, users must be registered in your database.
Let's see how these plugins that I will teach you can help you in this process:
29. Contact Form 7

It is the plugin for forms with more downloads on the web due to its great compatibility. Each plugin that requires a registration system relies on Contact Form 7 to complete this management.
You can create all kinds of forms that link directly to the database of your WordPress installation. From forms for simple subscriptions to user records with high-security measures.
The customization styles of this plugin will surprise you because it is designed so that your forms are tailored to your needs. It is the most comparable to a development framework in the WordPress environment.
30. Gravity Forms (payment)
Gravity forms also top, next to the previous one, the list of the best plugins for the management of your registration forms. The only difference is that to access its most outstanding functions you will have to pay for it.
But it is certainly worth it since each management option brings you closer to what an integrated system is. Among the fields that you can add to the forms are:
Buttons for options.
Fields for verification.
Dropdown menu.
Text boxes for paragraphs.
Single line text fields.
E-mail.
These are basic fields in every form, but you can find greater and perfectly integrated fields thanks to this complement.
Plugins to improve the look of your site
Web builders are being widely used because they save a lot of time and offer interesting designs.
With this type of add-ons, you can have a personalized website quickly. Let's see some:
31. Divi Builder (paid)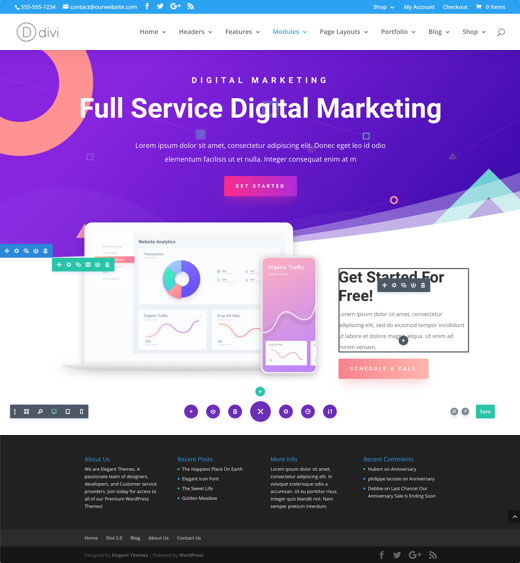 Divi Builder is one of the most powerful builders, with direct integration to a large number of templates. You can build interesting menus, and edit your entries in a great way.
You will have the possibility to manage the colors and themes of your website completely, and generate different elements in the place that suits you.
With its paid version you will have even more features available, which will allow you to have a first-class website in no time.
32. Elementor Page Builder
Elementor is a very popular web builder because in its free version it offers multiple features that already allow you to do great things.
It also has an integration with all the Widgets available in WordPress and adds new Widgets. And if you want to generate a functional web quickly, you can get a predesigned template immediately and program from there.
The drag-and-drop user interface is one of the simplest, and its loading process is very fast. This is very advantageous since other visual imagers usually demand many resources from your computer and server. However, Elementor is light and simple to use.
According to my years of experience in creating blogs and websites, these are the plugins you need to install on your website. It is not that you should install them all, everything will depend on your online project. From each category choose the one you trust most and tell me.